Perhaps you've tried some of our cannabis products at KushMart South (Everett) and have been left ravenous, in search of food, commonly referred to as "the munchies." Let's face it, we've all been there—a zombie-like state, trolling our refrigerators and pantries for salty and sweet treats in the depths of our highs. But alas, one often cannot satiate a case of the munchies with ordinary food. Instead, here in Everett, stoners often turn to an option we all know and love: Jack in the Box.
99 Problems, But Munchies Shouldn't Be One in Everett
Jack in the box is near and dear to most stoners' hearts in Everett. That's because they serve pretty much anything you can imagine, all day long (open 6:00 AM- 11:00 PM). That's right, if you want breakfast at 10:00 PM, Jack in the Box will hook it up.
Moreover, Jack in the Box intuitively knows the community of stoners that it serves, with a slogan stating: "Let's face it: you want what you want, when you want it," they are basically asking stoners to come to indulge.
Furthermore, the menu offers an impressively wide variety of options that cater to everyone's munchies needs. We're talking everything from juicy burgers, tacos, and chicken tenders, to breakfast and hot lava cakes. No wonder KushMart South customers love it!
Additionally, with delivery options widely available, this place definitely understands that even when you're couch-locked from a hefty indica, you might still need some reinforcements via delicious food and snacks.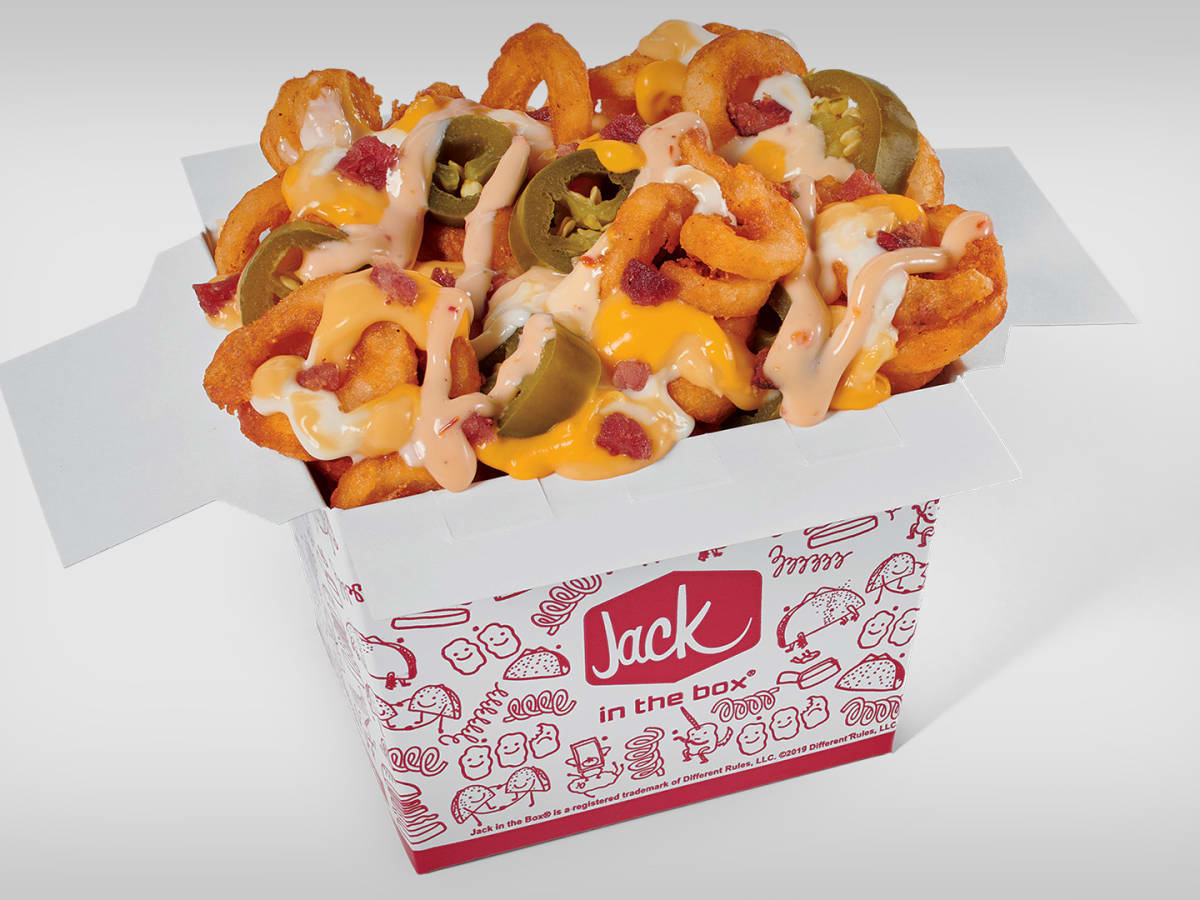 What to Order from Jack in the Box Everett When You Have the Munchies?
If you haven't tried Jack in the Box in Everett, you are definitely missing out! This is one of the best places to go when you have a bad case of the munchies or an eclectic craving. As a result, here are some of our favorite options to order from Jack in the Box Everett when you have the munchies:
1. Late Night Meals
Jack in the Box Everett has a late-night meals menu that absolutely checks all of the boxes. This option allows you to grab a few different things all at once!
Like the Chick-N-Tater Melt Munchie Meal, which comes with "A buttery croissant topped with crispy chicken, bacon, and hash browns smothered in an ooey gooey blend of three cheeses and ranch sauce. Two regular tacos. Halfsie fries and a small fountain drink."
2. Mini Tacos
I mean who doesn't love tacos? But, make anything mini and it gets exponentially better. Especially when you're stoned and want something that's easy and delicious. Jack in the Box mini tacos are a tasty and cute, bite-sized option.
3. Shakes and Desserts
Jack in the Box will satisfy every sweet-tooth munchie desire! They have everything from shakes to cheesecake and mini-churros.
4. Breakfast All Day
At KushMart South, we can't tell you how many times we have craved bacon-egg and cheese outside of traditional breakfast hours. That's why Jack in the Box is a great option for those who want a classic breakfast sandwich to mini pancakes, breakfast burritos, and more.
Want the Munchies?
Does this talk of Jack in the Box Everett have you ready to face your munchies' fears? We have you covered. Feel free to stop into KushMart South and ask one of our knowledgeable budtenders about both suggestions when it comes to Jack in the Box favorites, as well as cannabis products that are more likely to bring about the munchies.